Cheese Classes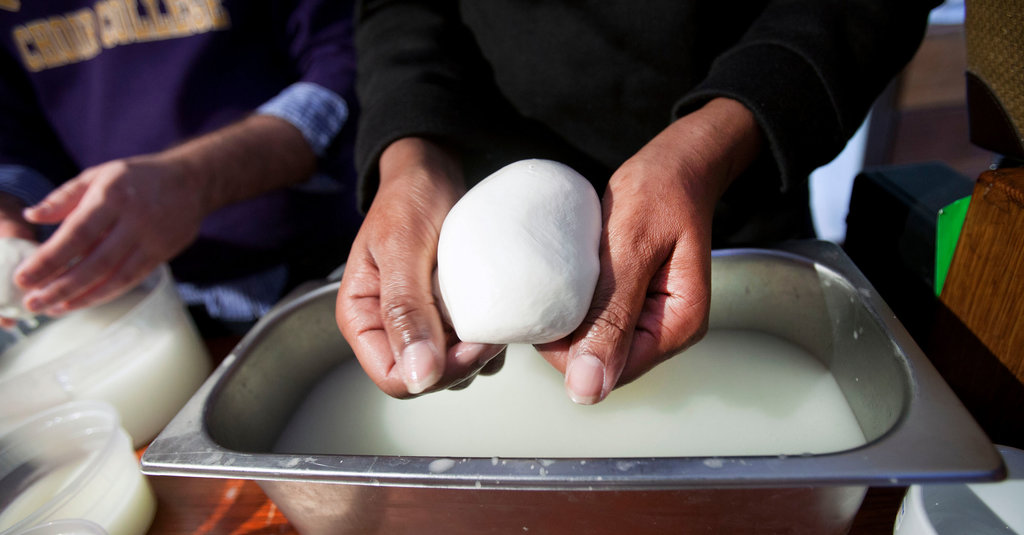 Olsson's cheese classes are hands-on (either making or tasting cheeses - or even both). Groups are small and very interactive.
Would you like to organize a cheese class with your friends? Contact us and we can organize an event for you and at least 5 of your friends.
Mozzarella Making – May 6 (10 AM) or May 16 (7 PM) or May 27(10 AM) or June 6 (7 PM) or June 17 (10 AM)
Starting from the curds, we will be making our own mozzarella. Hands-on and hands dirty class, in which you will learn how to cut cheese curds into tiny pieces, then put it all together again, start stretching and finally make cheese in the palm of your hand. Sounds fun? Make sure you dress appropriately, it could be a messy affair.
Cheese 101 – May 9 (7 PM) or June 15 (7 PM)
A closer look at how cheeses are made and what makes them so distinguishable. Other questions that will be answered: What makes goat cheese tangy, and blue cheese blue? Are animals hurt in the making of "Drunken Goat"? What is the attraction in eating heavy cream, ice cream and butter all at the same time?
Caseus Montanus Mountain Cheese Olympics–May 22 (7 PM)
The official Olympics were held in Galtur Switzerland last September; participants in the Olsson's class will discuss reviews and learn what all the "fuss" is about with mountain cheeses. Come and get an appreciation for the craft that goes into the making of these cheeses. Participants will be awarding gold, silver and bronze medals to the cheeses tasted.
Unexpected pairings – May 30 (7 PM) or June 13 (7 PM)
A great condiment paired with cheese enhances the flavor by bringing out unexpected notes like grassiness or nuttiness or adding complexity with a new texture. Come and learn about some untraditional but very effective parings.
Racletting two ways – June 20 (7 PM)
In this class we will be having fun with melting cheese. The first go-around is hands on with little pans under a broiler and all the traditional trappings ( boiled baby potatoes, cornichons, pickled small onions) then we switch it up to the raclette machine where we will get an opportunity to really "racler" (=scrape) the cheese.
The Blues – May 27 (7 PM)
In this class we will learn about the history of blue cheese, how it is made and what types of blue cheese can be distinguished. The class will also entail tasting these cheeses from mild to strong. Will you be the last person standing?
Burrata – May 13 (10 AM) or May 23 (7 PM) or June 3 (7 PM) or June 12 (7 PM)
In the land of luscious cheeses, Burrata reigns supreme. Under a thin skin of Mozzarella you will find a filling of Ricotta with heavy cream or whipped curds with heavy cream. Cut through the skin and all that creaminess comes oozing out. You will learn how to make the skin first and then how to ensure you pack enough lusciousness in the cheese.
Stinky Cheeses – May 29 (7 PM)
Always wondered what the attraction in these cheeses was? Here is the class to find out why cheese nerds rave about the "nose" on this or that cheese. Always bear in mind that the bark is always far worse than the bite in this cheese category. Stinky they may be on the outside, but wonderfully complex they are on the inside. Come and open the door to these odorous masterpieces.
Raw Milk – June 19 (7 PM)
Here is a chance to air your views on raw versus pasteurized. In this class we will be discussing what the advantages (and disadvantages) are of raw milk cheeses. What are the (perceived) dangers and why are these cheeses regulated in some countries/states and not in others? We will be tasting and comparing some raw and pasteurized cheeses to form an opinion.
All classes are $35 per person
To register for a class, please call us at (609) 924-2210 or stop by the shop. Payment required for reservation.