Cheese Club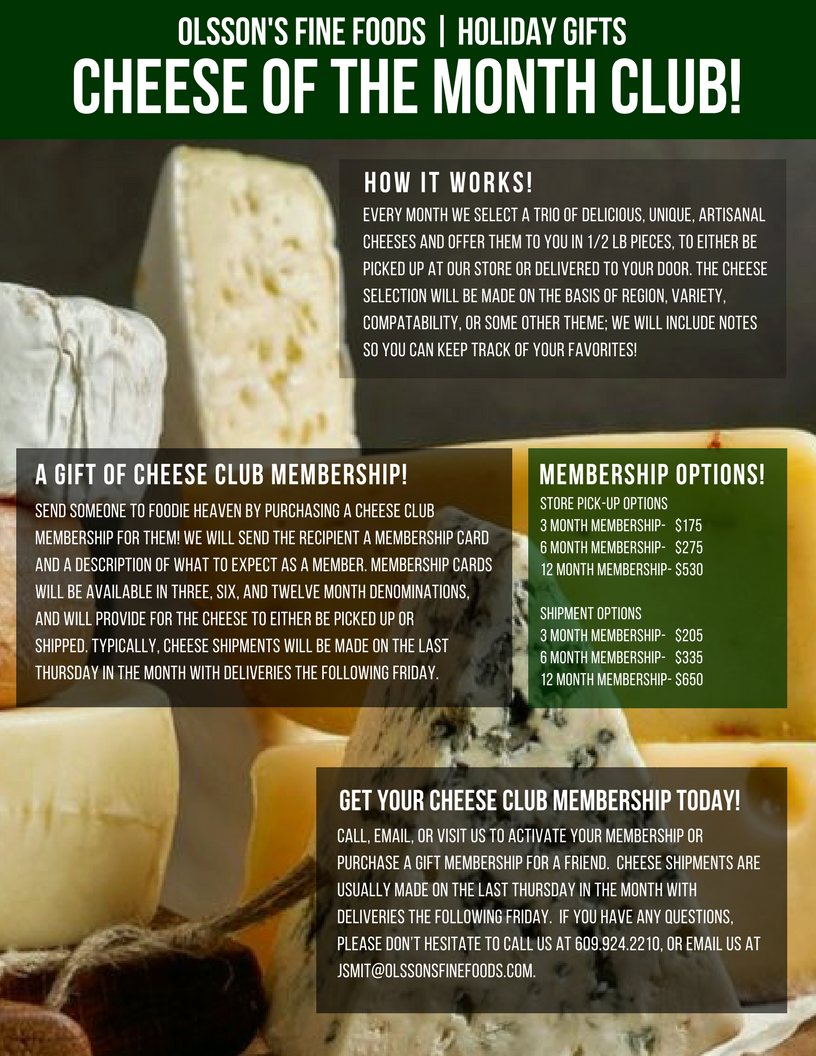 Discover World-Class Cheeses Handpicked for You!
How It Works
Every month, we select a trio of delicious, unique, artisanal cheeses and offer them to you in 1/2 lb pieces, to either be picked up at our store or delivered to your door. The cheese selection will be made on the basis of region, variety, compatability, or some other theme; we will include notes so you can keep track of your favorites.

Membership
Membership cards will be available in three, six, and twelve month denominations, and will provide for the cheese to either be picked up or shipped. Typically, cheese shipments will be made on the last Thursday in the month with deliveries the following Friday.


Gift Certificates
Don't keep this a secret! Use our gift certificates to send someone to foodie heaven. We will send the recipient a membership card and a description of what to expect as a member.
Getting Started
Sign up today! Call, email, or visit us to activate your membership or purchase a gift card for a friend.
If you have any questions, please don't hesitate to call us at 609.924.2210, or email us at jsmit@olssonsfinefoods.com.
Membership Cost
Three-month Membership
Pick-up- $175; Shipped- $205
Six-month Membership
Pick-up- $275; Shipped- $335
Twelve-month Membership
Pick-up- $530; Shipped- $650.
Shipments by UPS ground. Where UPS ground cannot deliver next day, please ask for shipment cost quotation.